I fell off the wagon. I started this journey with a foray back into the world of weight lifting ( for those interested in learning about that experience click here.) At first it was enjoyable, I had a program that worked well. I was getting used to being back in the gym and at lunch time they would play a mix of Big Shiny Tunes and some Blink 182, so at least acoustically it felt like my late teens.
Then as the marking and clinical increased, my trips to the gym decreased. In an attempt to at least maintain the progress I had achieved I began exploring and experimenting with body weight exercises. My wife suggested a website called hiitit.ca. These are two trainers from Kelowna  BC ( one of whom is a friend of ours from our nursing school  days. You can follow them on Twitter @HIITitKelowna.). I  tried one of their high intensity interval training workouts (some free ones can be found here). I don't mind telling you I got crushed.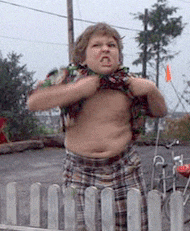 What is interval training? It is a method of training consisting of bursts of moderate to high intensity exercise for a certain period of time. This exercise  is followed by a period of rest ( don't worry there is a video explaining all this shortly).  The following infographic illustrates the differences between high intensity interval training, interval training and three popular interval training protocols.

Image via: High-Intensity Interval Training Can Help Reverse Aging Process
The hiitit workouts workouts use an interval training protocol using 50 seconds of work with a 10 second break (I think this is  a variation of the Tabata protocol) . They do a good job of demonstrating beginner and advanced ways to approach the exercises but I found it very difficult. The next day I would have benefited from an ice bath and a raised toilet seat.  This whole experience got me thinking. I was feeling sore in muscles I didn't know I had ( and I'm a nurse I took a class on those). And all of this after only what amounted to 12 minutes of training. So what was the difference? I was lifting weights in the gym 3-4 times a week (for a look at the regimen please click here). I was spending on average 45 minutes in the weight room. So what was the difference? In a word, intensity.
I found the following video to be an excellent explanation of intensity in daily fitness:
There are 3 main points I learned from this video:
Intensity in physical activity drives performance
Intense physical activity in difficult to maintain
The term "intense" means different things to different people
Another important takeaway from the video was the answer to the question " What's the best  exercise?"
The one you'll do! Or more accurately in my case, the one I can do. The exercises in the hiitit workout were a bit too dynamic for me. I'm not overly limber or coordinated so I need fairly simple compound body weight exercises that I could perform. Given my current fitness level and my new basic understanding of the metabolic equivalent   (MET) I would need an interval training plan that is adaptable (meaning I can alter the intervals to match my fitness needs and select exercises that are in my skill set). Did such an app exist? Enter Mark Lauren's Body Weight Training App. More on that shortly! Thank you for reading!